Show me your Halloween cats! Comment with pictures and stories. I'd love to see all your babies.

I plan on getting a Halloween kitty in the future. An orange and black tortie female Maine Coon, to be precise! I'm going to try to think of a real Halloweenesque name for her.

Anyway, come one, come all! Show off your Halloween cats!
Why is this community so dead? Let's get it active again!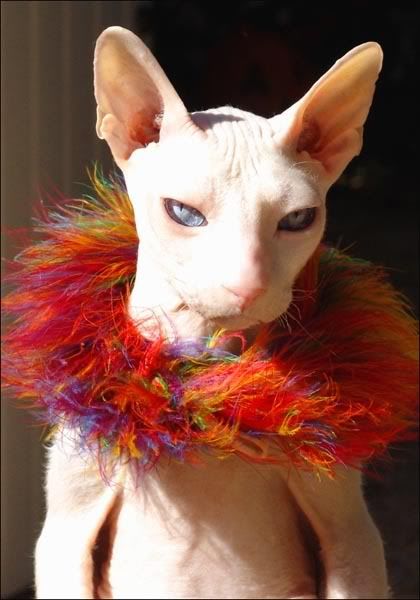 This is my beloved
Cornish
Niki Cat. He scrambled past me as I was going out the door yesterday so I grabbed my camera and took some shots of him. I have a couple more on my journal if you'd like to come see : )
Big cat loving hugs,
Jacqui
We arrived home around 11:30pm, got the makeup off and fell into bed. We had been in charge of a large portion of the party and had spent hours preparing and then the party, we were exhausted and cold.
Mom heard the squeeling of tires in front of our house. Then the car squeeled away and Mom heard a tiny kitten meowing. She got up and pulled on her slippers and robe and went outside, her feet crunching in the frost. She heard a tiny meowing. Mom called that the kitten had better hold still, she was too tired to chase her.
The kitten was huddled next to a tree in our front yard, a tiny tuxedo kitten with a scrapped up face. She was missing an eyebrow, her ear was scruffed, several whiskers were gone on one side, the others were broken and her paws were scrapped. We figure that someone threw this some kitten was thrown out of a car window with them barely slowing down.
At midnight on Halloween.
We named her Darcyquinn - Gaelic for Little Dark One.
To this day she only meows very softly. That night she was loud enough to be heard inside the house. She's been a treasured part of our home since that night.
# # #
Close to Halloween kitties are our two smokey black kittens of this year that we got the day after Friday the 13th. They have been named Vlad and Dru (My mother named them, I didn't so don't blame me for the vampiric names! LOL)
They are adorable and have fit right into the home.
Hi everyone: I know it's past Halloween but I wanted to share the story of our Halloween kitty: In 1995, I was living with my mom, sharing expenses and being cared for after back surgery. On Halloween we attended a very long Halloween party.
Hello!

I saw a post about this community on one of the Halloween places, and since I have two halloween kitties, I thought I'd join to meet other catlovers!
My cats are Grimm and Jack (Skellington) they are *mostly* black :P
Below is Jack checking out my flowers! Hope its small enough to not lj-cut. If not, let me know!



post
Halloween. hehehe. Hope you all had a lovely Halloween night. I saw this and absolutely had to join. I have a little Halloween cat named Lilianne. She's all black and she is such a special presense in my life. The first day we brought her home, she did what I call the "Halloween cat" where she hunched up when she got scared and basically looks like all of those scaredy cats you see around Halloween time. I LOVE IT! So behind the cut are some pictures of her when she was a kitten. Enjoy!
(
I LOVE HALLOWEEN CATS!!
Collapse
)
So glad to meet you all!
Hey everyone! Happy
Halloween_Cats
I'm still working on the info page too.
More to come. But for now I go, I go and sleep. Because Adult Swim is over. :)
Well I should be working on the community tommarrow and probably be promoting it everywhere too. Thus in my promoing of the community I created a group on catster for it.